Public figures have to be really careful with the information they put out online. As they are constantly in the eye of the public, any private information can be used against them. What's more, everything a public figure posts online will be seen by many, so they are advised to think thrice before posting anything.
Recently, local pianist and public figure, Cathryn Lee (李元玲), was pissed about her money being deducted for no reason, so she took a screenshot of it and shared it online. However, she forgot to hide one tiny detail; her bank balance which then became a hot topic of discussion.
Renowned Malaysian pianist, Cathryn Li, caused a stir among netizens recently when she took to her Instagram story to raise awareness about an unauthorized deduction of RM28 from her bank account.
However, what caught the attention of many was an unintentional revelation of her substantial savings, totaling a staggering RM40 million.
Shows screenshot of bank statement amounting RM40mil
In a now-deleted Instagram story, Cathryn Li shared a screenshot of her bank statement, highlighting the unconsented RM28 deduction. While her intention was to shed light on the issue, she inadvertently exposed her impressive wealth by failing to censor the bank balance, which amounted to a whopping RM40,360,535.25.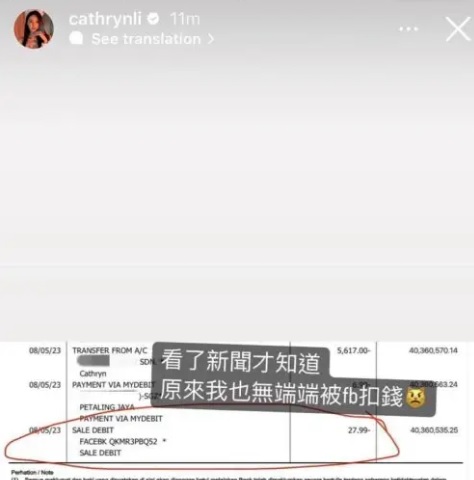 She wrote, "I only knew about this after reading the news, turns out FB has been deducting my money for no reason!" In the heat of the moment, however, the musician didn't realise that she did not hide her bank account balance and accidentally exposed it to the public. From her story, her balance was seen to have 8 figures, reaching a huge amount of around RM40 million.
The disclosure of her impressive savings has left Malaysian netizens in disbelief and sparked widespread discussions across social media platforms.
'I've never seen such amount in my life'
Many users expressed astonishment at the substantial amount and began speculating about the origins of her wealth and potential financial ventures beyond her musical career.
As the news continues to circulate, Cathryn has yet to comment on the incident or address the speculations surrounding her financial status.