Malaysia's markets once marched to the tune of a government that stayed in power for six decades. A rapid turnover of leaders since has driven investors away, turning its assets into some of the most unloved in the world.
The benchmark equity gauge is among the worst performers globally this year, and its slide toward a bear market is a stark reversal from when it boasted of the world's longest bull run. The ringgit suffers a similar fate as the biggest decliner among emerging Asian currencies in 2023.
With four administrations since 2018, the nation's political stability-premium has long since vanished as conflicting agendas hamper growth, and plans to rein in debt fall short. For Prime Minister Anwar Ibrahim, who came to power in November, the challenge is to bring back foreign investments with market-friendly reforms as demand from China, its largest trade partner, slows.
"Investors want to see what is the narrative of this new unity government," said Lee Heng Guie, executive director of the Socio Economic Research Centre. "What are the companies that will uplift Malaysia? This will not come from the same traditional sectors, such as commodities."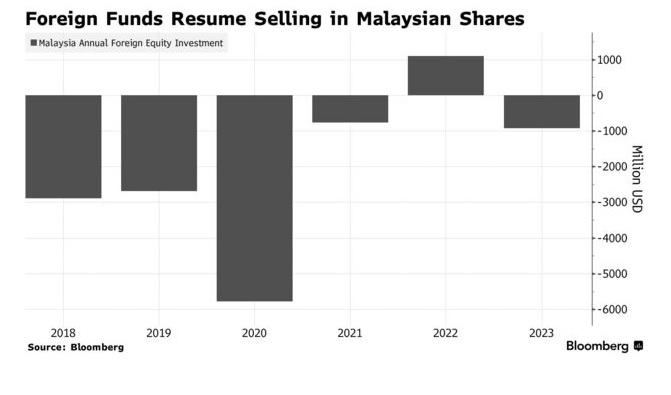 Global funds have pulled almost a billion dollars from Malaysia's stock market this year, adding to the net $11 billion that left in the past five years. The exodus started when the long-ruling Barisan Nasional coalition was toppled in 2018 in the face of rising costs of living and corruption allegations.
Since then, four administrations have tussled with the aftermath of removing an unpopular goods and services taxes while finding revenue to plug a fiscal deficit which is among the widest in Southeast Asia. A narrowing trade balance is also hurting the profits of firms already burdened by elevated interest rates, and sapping the currency.
"We have to learn how to grow and how to manage the country given the instability, be it instability of politics as well as of the economy," said Noor Azlan Ghazali, professor of economics at the Universiti Kebangsaan Malaysia. "That is a real challenge because in Malaysia whenever we have a change in leadership, then everything has to change as well."
Read More: Malaysia Expected to Hold Rate on Inflation, Ringgit Reprieve
Anwar, who is leading a coalition government, is seeking to cut state subsidies and broaden the tax base to reduce debt, while making it easier for foreign companies to do business. In the first quarter, his administration approved foreign direct investments worth 37 billion ringgit ($7.9 billion), up a third from a year ago.
Still, the equity benchmark is down 7.3% this year, just three percentage points away from a bear market. Brokers have slashed their targets. Around 50% of stocks under coverage missed earnings expectations in the first quarter, and just 12% beat them, according to a JPMorgan Chase & Co. report.
Malaysia has historically "relied on domestic institutional money to sustain premium valuations but this dynamic has eroded over the past few years as domestic institutional funds allocate more money to overseas equities," said Alan Richardson, portfolio manager at Samsung Asset Management. "Meanwhile, foreign investors struggle to find growth ideas in Malaysia."
Reform Credentials
The main FTSE Bursa Malaysia KLCI Index is largely made up of old-economy stocks, at a time when interest in technology firms and artificial intelligence is drawing traders to other markets. The gauge's price-to-book valuation of 1.3 times is near the pandemic-low and at a significant discount to the 10-year average.
"Anwar was supposed to be a reformer," said Raymond Chan, chief investment officer for equity, Asia Pacific, at Allianz Global Investors. He "needs to come up and market the story to foreign investors." The stock exchange should also attract tech listings, while the government lures more foreign investments, he said.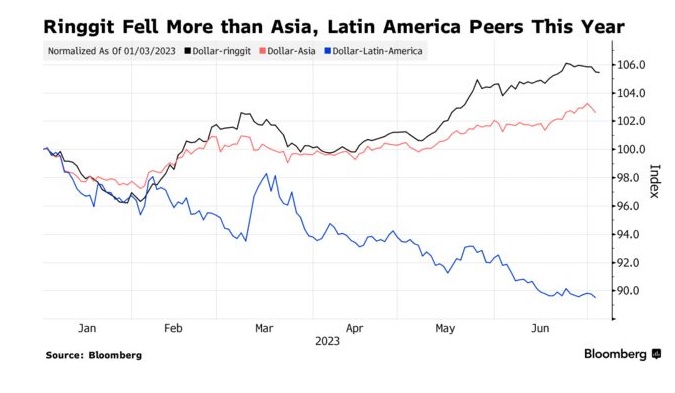 A weak ringgit, down more than 5% against the dollar this year, partially reflects the "residual risk premium" from the precarious state of government, according to Vishnu Varathan, the Asia head of economics and strategy at Mizuho Bank Ltd. The stuttering China economy doesn't help, he said.
Goldman Sachs Group Inc. analysts now see the ringgit weakening to 4.7 against the dollar in six months, from a previous forecast of 4.25. The weak currency "makes the whole investment case for the market less attractive," for foreign investors, said Dionne Cheung, associate investment director, Asia ex-Japan equities at Schroders.
Tech Toehold
To be sure, Malaysia does have a toehold in the world of better-valued technology firms. Its burgeoning chip assembly and testing hub, which plays a key role in the semiconductor industry is already drawing investor interest.
Read More: Malaysia Woos Microsoft, Google to Bolster Data Hub Ambitions
A JPMorgan analysis shows that 16% of funds under management tracked are in tech stocks, far above their weighting.
In the near term, however, Anwar faces the same challenge as his three predecessors: staying in power. Unfavorable results at upcoming state polls in August may pose a risk for the coalition government head if his allies reassess their support.
"A lot of this policy restructuring is expected to take place in 2H2023," said Yeah Kim Leng, professor of economics at the Sunway University Business School, who advises the finance ministry. "Investors are on hold, as they anticipate these reforms picking up pace."
Source : Bloomberg