After three days of complaints by army reservists that vital military equipment, as well as food and other goods, has been lacking, the IDF on Monday launched a round-the-clock hotline manned by the technical and logistics branch to provide a response.
Military personnel can contact the hotline via WhatsApp at 052-615-6256 to ask about equipment, logistics, food, or anything else that is missing.
On Sunday, The Times of Israel reported that reserve soldiers from all over the country had taken to social media to complain that they were not properly equipped by the military for anticipated large-scale operations against the Hamas terror group in Gaza, with many seeking to privately purchase the required gear.
As the complaints multiplied, Israelis set up numerous WhatsApp groups to try to match those in need with local donors and supplies. Offers of supplies and financial assistance also started coming in from abroad, including to The Times of Israel.
On Monday, the head of the Logistics Directorate, Maj. Gen. Mishel Yanko, told a media briefing that civilians were welcome to donate funds for "treats" via the Association for the Wellbeing of Israel's Soldiers, but that the army would supply the necessary equipment.
"We don't need help to complete combat equipment," he said, adding that four logistics centers were now fully stocked.
Yanko emphasized that the first critical task since hostilities started early on Saturday morning was to help the communities under attack and to call up 300,000 reserve soldiers, an almost unprecedented number. Many were currently training, and thousands of vehicles had been supplied to transport soldiers to their bases.
He said he was getting "dozens of messages" about equipment deficiencies, but these were not "significant" and the army was doing its best to fill gaps.
Thousands of reserve soldiers have been scrambling to obtain protective vests with ceramic panels providing the highest level of protection against the penetration of bullets and shrapnel.
Yanko said, "All our planning is based on the nature of the mission. We didn't intend for all 300,000 soldiers to receive ceramic vests. Those who fight in Gaza all need ceramic vests."
Challenged that some reservists already operating in Gaza did not have ceramic vests, Yanko replied, "It takes time. Everyone who is involved in fighting or friction in Gaza will receive ceramic panels. I don't want to open up here about the nature of the different activities [that reservists are undertaking]."
The army issued photographs and video clips of equipment being prepared and packed, and supplied figures for everything from the numbers of bullets, explosive weapons, bulletproof vests, helmets and uniforms to mattresses, vehicles and food packs that would be made available, over and above the supplies that reservists currently had.
All reservists had received battle rations with bread, fruit, and vegetables, and nobody was going hungry, he continued. In some places, more soldiers had turned up than had been called, a sign of Israelis' intense desire to protect the country, Yanko said.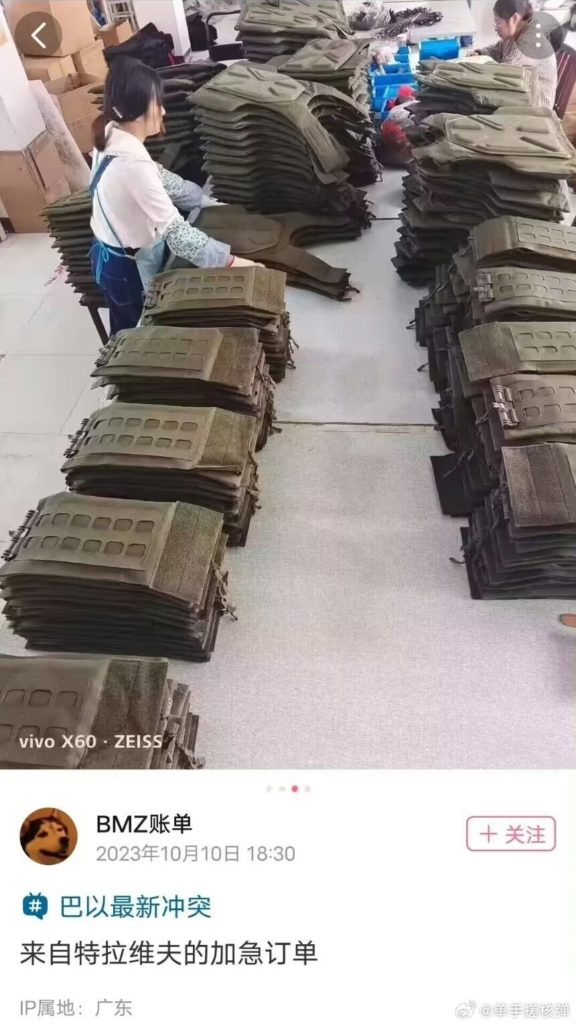 Israel is making massive orders from China for tactical gears
This matches with reports of equipment shortages for the Israeli reservists. It points towards a decline in combat readiness among the conscription based Israeli ground force.
It points towards a decline in combat readiness among the conscription based Israeli ground force.
China's textile industry is the only place for countries to go, if they want to order several hundred thousand plate carriers.