RATHER than suffering another round of humiliation, MCA and MIC have perhaps made the wisest decision by skipping the six state elections slated for Aug 12 for both communal parties are well aware of their chances should they contest.
MCA secretary-general Datuk Chong Sin Woon conceded that the decision to stay out was as reached after an in-depth discussion and analysis as well as taking into account the current political situation where the party will re-group by implementing reforms and revival.
"During this period, MCA will focus more on preparing for the 16th General Election (GE16)," he pointed out in a Facebook statement yesterday (July 6) evening.
MIC secretary-general R.T. Rajasekaran said the party's central working committee (CWC) made a unanimous decision not to participate in the polls.
"This decision was reached after a discussion which lasted about four hours and after scrutinising the current political situation as well as hearing the views of each MIC member," he noted in a statement.
The steadfast decision of both MCA and MIC which are key component parties of Barisan Nasional (BN) is basically sending a subtle signal to their 'big brother' UMNO – who is now co-helming the unity government alongside Pakatan Harapan (PH) – that "you, too, don't stand a chance".
After all, a recent survey has indicated that UMNO – against the backdrop of internal squabbling, scandalous leadership and having treacherously dishonoured the party's stance of "no Anwar, no DAP" – is facing a daunting task ahead of the state polls in Selangor, Penang, Negri Sembilan, Kedah, Kelantan and Terengganu.
The report published by ISEAS Perspective, a journal from the Singapore-based Institute of Southeast Asian Studies, found that the Malay grassroots' acceptance of the PH-BN coalition – especially in Selangor – is still highly questionable at this moment.
"If left unchecked, it will destabilise the coalition in the long run," cautioned the writers Marzuki Mohamad who is an associate professor in the Department of Political Science of the International Islamic University Malaysia (IIUM) and Institut MASA researcher Khairul Syakirin Zulkifli.
"With this latest polling trend, the winds of change are blowing in Selangor. Whether or not these winds can sweep PN to an electoral victory in the state depends on how much strength they gather leading up to polling day."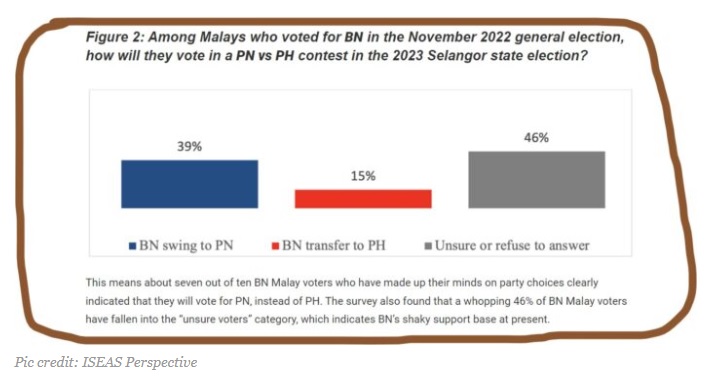 Interestingly, the survey's findings indicated that seven out of 10 "UMNO Malay" voters in Selangor who have made up their minds on party choices have decided to vote for the opposition Perikatan Nasional (PN).
It further found that a whopping 46% of BN Malay voters have fallen into the "unsure voters" category which indicates BN's shaky support base at present.
"It seems that PN, led by the pribumi-based Bersatu and Islamist party PAS, is the natural alternative to BN for the conservative UMNO Malays. PN represents the imagery of Malay and Islamic conservatism that UMNO abandoned by virtue of its cooperation with DAP," opined the survey.
"Apart from this, PN's narrative of good governance, anti-corruption, and care for the people, as shown by the various fiscal and non-fiscal assistance given to the people through the eight economic stimulus packages rolled out during its 17 months in power, captured the imagination of Malay voters and convinced them that PN may be a better alternative to UMNO."
Of the 56 state seats in the Selangor state assembly, 39 are Malay-majority seats while the simple majority needed to form the state government is 29 seats.
Source : Focus