A suspected case of pufferfish ( ikan buntal ) poisoning led to the death of an elderly couple in Chamek Village, with one person dead and the other being treated in the ICU.
The couple were 84-year-old Wong Chuanxin and 83-year-old Lin Xiuguan. This was their first time purchasing and consuming pufferfish, which resulted in both of them being poisoned.
Wong Kunshan, the couple's son, told Malaysia's Chinese paper China Press that on the morning of Saturday (25 Mar), his father bought five pufferfish from a mobile vendor, and his mother fried two of them for lunch.
Later, at around 2 pm, they had a meal and one of the pufferfish was consumed, with about two-thirds of its portion being eaten.
He said that about 1.5 hours after eating, his mother's hands, feet, and lips began to numb, accompanied by convulsions.
"I was just returned to my parents' house to clean a fish tank, and noticed that my mother was not feeling well. "
"My father also mentioned feeling numb, and that's when I found out that they had eaten pufferfish and something awry happened, " he said.
It was around 4 pm at that time, and he immediately took his parents to Kluang Hospital. His mother was immediately admitted to the ICU, but unfortunately, she passed away at 7 pm after attempts to save her.
His father was in good condition when he was admitted to the hospital, but his condition worsened and he was transferred to the ICU at night.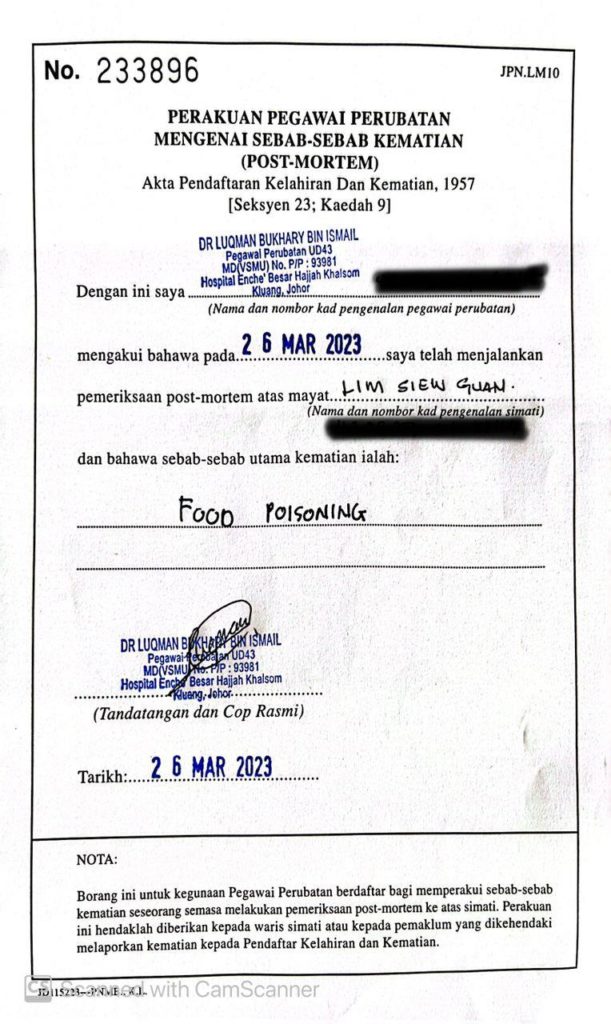 He said that he had reported the incident to the Malaysia's Ministry of Health, and officials had come to take away both the cooked and uncooked pufferfish for testing.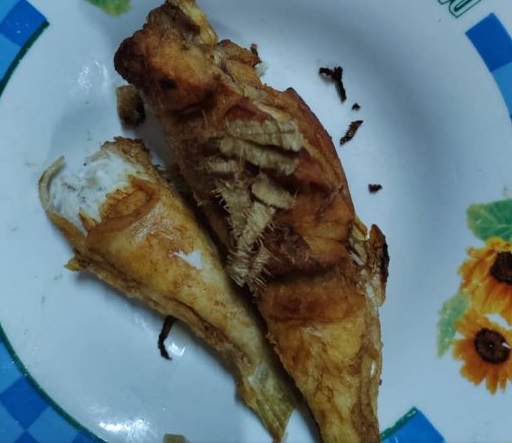 "I agreed to an autopsy of my mother's body, and the preliminary report indicated death due to food poisoning. We have since claimed her body for funeral arrangements."
Mr. Wong said that he knew pufferfish were poisonous, but his elderly parents may not have been aware of this information.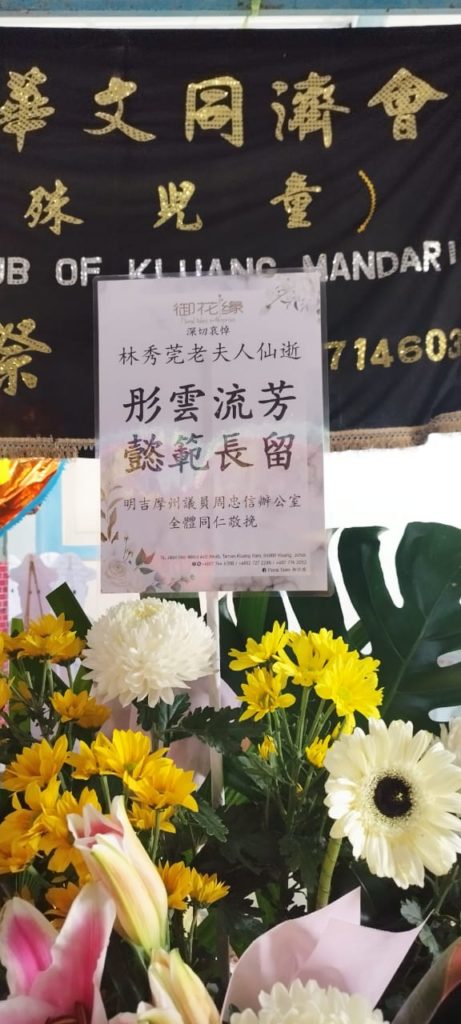 Johor State Assemblyman Urged Malaysia's Government Ban Pufferfish (ikan buntal) Sale
Chew Chong Sin, the Johor State Assemblyman for Mengkibol in Kluang, revealed that the law enforcement department of the Kulai Health Bureau had informed him that the director of health had proposed a ban on the sale of puffer fish in 2017, and had even drafted a bill to amend it.
However, the amendment had not been passed in Parliament yet.
Mr Chew has since called on the Minister of Health to take action and investigate the matter, urging the need to legislate the ban as soon as possible within the scope of legal jurisdiction.
Additionally, he has appealed to fish vendors to actively ban the sale of puffer fish and urged the public to refrain from purchasing fish with unclear origins.
"If the public finds suspicious fish sales on the market or on the Internet, they can report them to the relevant departments."
Puffer fish, also known as "ikan buntal" in Malay, is a highly toxic fish species and can be used as an ornamental fish. It is found in Malaysian waters and is usually sold without skin, head, or internal organs.
The neurotoxin or tetrodotoxin (TTX) found in pufferfish, which is considered even deadlier to humans than cyanide, can cause adverse effects on human health, and almost all pufferfish are poisonous and contain this toxin in their body parts.
One pufferfish contains enough tetrodotoxin to kill at least 30 adult human.
In Japan, chefs who prepare puffer fish dishes, usually served raw as sashimi or in hot pot with vegetables known as chirinabae, must complete two to three years of training before being qualified to serve the delicacy.
According to the Disease Control Division of Malaysia's Ministry of Health, there were 55 reported cases of puffer fish poisoning and 17 deaths related to tetrodotoxin exposure in Malaysia between 1985 and 2014.
Avoid Eating Puffer Fish ( Ikan Buntal )
The Department of Fisheries (DOF) advises the public to avoid eating unknown types of puffer fish as almost all of them contain toxins that can cause poisoning if consumed incorrectly.
Fisheries director-general Datuk Adnan Hussain in a statement said individuals who handled puffer fish for consumption should also have proper experience and knowledge of the fish.
He said consumers who bought fish online, especially in fillet form, should also check the species and type of fish they were purchasing.
"If you choose to try pufferfish-based dishes or products, avoid eating the body parts that contain toxins such as the liver, skin, intestines, and ovaries, and these parts must be properly removed before cooking.
"This is because tetrodotoxin will not be destroyed even if it is cooked at a high temperature… this tetrodotoxin poison can attack the nerves and lead to death if eaten," he said.
The public is also advised to immediately seek treatment from a medical centre if they experience symptoms of poisoning such as nausea, vomiting or muscle weakness within 30 minutes to two hours after consuming puffer fish.
According to DOF statistics, the total landing of puffer fish in Malaysia in 2020 was around 1,337 tonnes, with the highest landing in Perak (804 tonnes), followed by Sarawak (228 tonnes) and Sabah (192 tonnes).
Commonly caught puffer fish are from the Lagocephalusia species which are banana puffer fish, including Lagocephalus wheeleri, Lagocephalus spadiceus, and Lagocephalus lunaris.
Yesterday, Johor State Health and Unity Committee chairman Ling Tian Soon was reported to have said that an elderly woman died on Saturday (March 25), while her husband was still being treated in the Intensive Care Unit (ICU), after the couple was believed to have been poisoned from consuming puffer fish.
It is understood that the couple who live in Jalan Sin Tiam Chamek, Kluang, Johor, got supplies via pre-booking from a seller on Facebook.