I don't see why Malaysians are so ecstatic about Michelle Yeoh winning the Oscar.
What is so Malaysian about her? She went off to Hong Kong to start her acting career, then moved on to Hollywood. She presumably comes back to Malaysia for holidays.
Has she done anything for Malaysia? Has she even helped the Malaysian film industry in any way? Does she invest the millions she makes in Malaysian films? Not as far as I know.
She got a few titles from Datuk to Datuk Seri to Tan Sri (in 2013 — note the year). Was that just for achieving the honour then of being chosen as a James Bond girl and becoming successful in Hollywood?
Her partner, Jean Todt, reportedly got a piece of land on an island off Terengganu. He also got a staggering million-ringgit fee to be our tourism ambassador! That worked out to an annual fee of RM593,000 and another RM388,000 to pay for his holidays in Malaysia.
What on earth was that for? The Malaysian Government under Najib Razak then approved it. It would have to account for that.
Well, in 2013, Michelle Yeoh openly supported Najib for the upcoming general election then. Is there a connection?
"I hope from the bottom of my heart that he will remain as the Prime Minister and I ask all of you to give him a strong mandate," she said.
But when she told her audience, "I am for Malaysia's best prime minister. So can you show me here your support for the prime minister?", she was greeted with jeers instead.
Truth be told, many people cringed at her support for Najib. His subsequent conviction for corruption and 12-year prison sentence vindicates that feeling.
Najib Razak "best" prime minister? Seriously?
In 2018, cartoonist Zunar aptly said that from what Michelle Yeoh did, she was far worse than the loyalists of Najib's.
Today, she won the Oscar. Good for her. In any case, she won it because of the right timing. Hollywood is celebrating diversity like nobody's business and this year seems to be the year of Asians. The Best Actress category this year was also relatively thin. Except for Cate Blanchett, the other actresses lack hype and clout — although they do not lack talent. I thought Ana de Armas was very good in 'Blonde'.
It's not always about talent as far as the Oscars are concerned anyway. Politics and the sentiment of the Academy members come into play as well. And that could be how although Michelle Yeoh has often been critiqued as a wooden and one-note actor, she got the prize.
Should Malaysians be jubilant over her victory? Did she credit Malaysia for it?
I also ask again, what has she done for the country?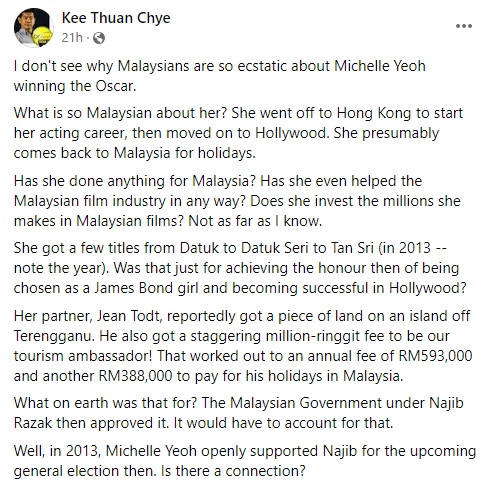 Source : Kee Chuan Thye